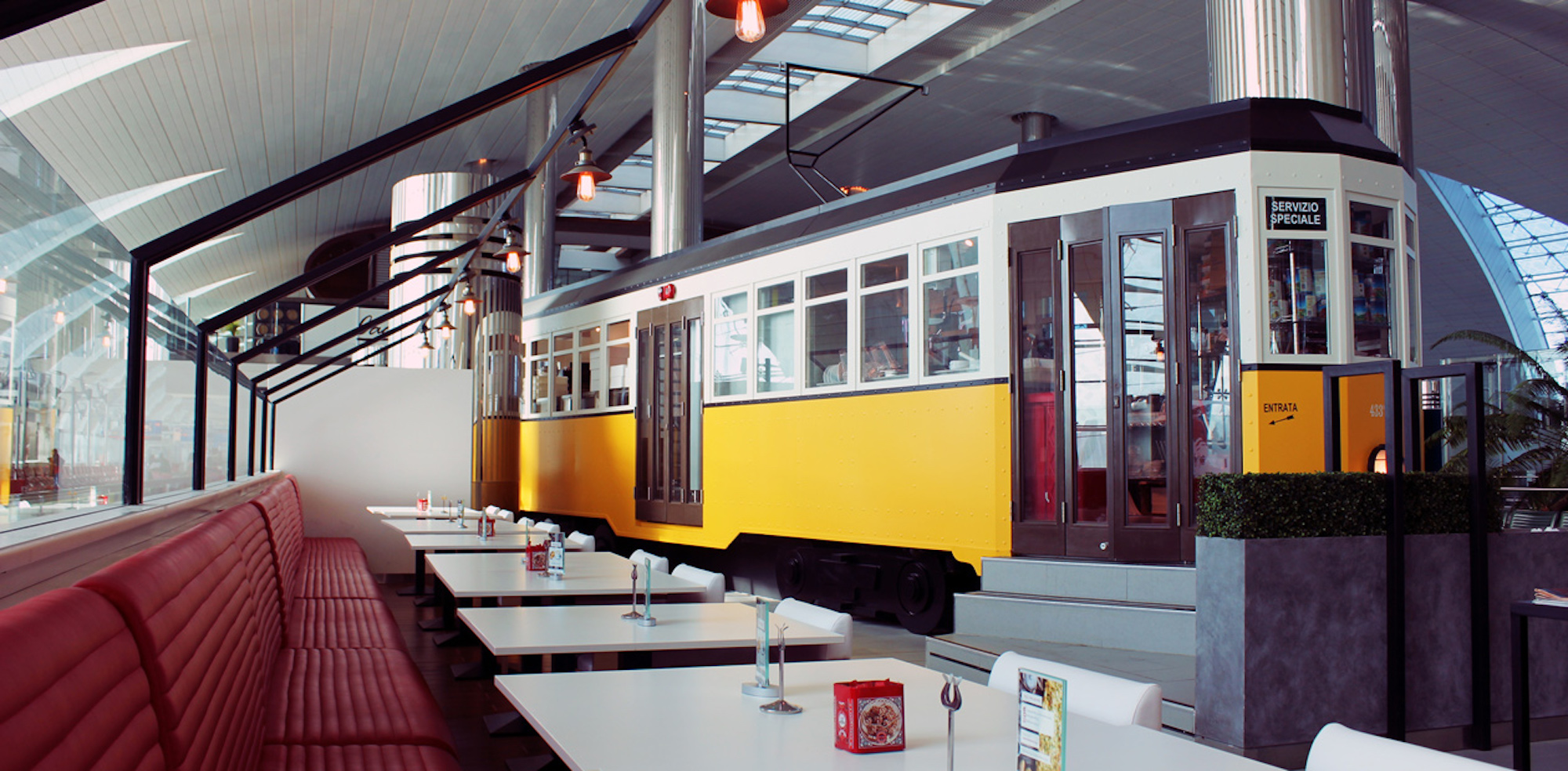 BRIEF
Rossovivo, a home grown artisanal pizzeria chain in the UAE, is committed to producing authentic handmade pizza according to the original process developed in Naples, the Italian city credited as the birthplace of pizza.
Only this time around, the venue was the very busy Terminal Three of Dubai International Airport in the UAE. With this outlet, the client wanted to expand the boundaries of the brand and create a setting that was both relevant and eye catching. Given the airport's stringent safety constraints, ODG had to demonstrate flexibility and creativity to work around them.
SOLUTION
Faced with the space constraints along the airport's concourse, ODG took its inspiration from the iconic Milan tram, with a long and thin design, in delivering the new Rossovivo restaurant.
'Pizza alla romana' was originally served as Italian street-food and gave diners a choice of toppings. This same urban landscape concept has been built into the restaurant, which finds its interpretation as a vintage Italian tram. The brightly coloured tram puts the main kitchen for the restaurant virtually on a stage, allowing customers to view live preparation of the pizzas through its large windows whilst dining in a spacious environment.
The colour chart is consistent with the Rossovivo brand identity; however, a lot of new materials, shapes and colours have been introduced to create this new airport format of the Rossovivo brand.
RESULT
The restaurant offers takeaway and table service, which was addressed by ODG with multiple entry points to help the customer journey through the 'tram' and allow waiters freedom of movement. Three different types of seating can accommodate people travelling alone or in groups; passengers in transit with long hours at their disposal; or passengers with very limited time.
The juxtaposition of Italian heritage in the heart of an ultra-modern airport has created a memorable distraction for travellers, who are given an opportunity to enjoy a meal that momentarily transports them to the Italy of the 1920s.